When AT&T employees are at their best—healthy, balanced and productive—the entire organization benefits. Standard health benefits are vital, and AT&T provides competitive medical, dental and vision benefits. But we know that wellness means more than making annual doctor appointments. Overall well-being is a daily commitment. That's why AT&T offers Your Health Matters (YHM), our workplace wellness program designed to provide education, encouragement and support to employees throughout their journeys.
A well-being community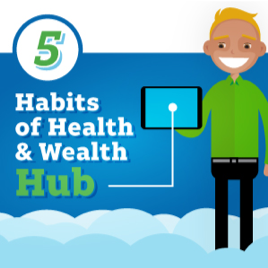 Central to YHM is our online community, tSpace. YHM's tSpace serves employees around the globe, providing opportunities to connect with and learn from others pursuing overall well-being. YHM provides trending wellness content, building healthy habits in the areas of nutrition, physical fitness, disease prevention and mental well-being. For example, our 5 Habits of Health & Wealth Hub provides employees with the tools to achieve physical and financial wellness goals.
Community members regularly participate in wellness challenges and events, such as our award-winning campaign, Stamp Out Stigma. The campaign encourages employees to pledge to stamp out the stigma—a personal commitment to help reduce the stigma surrounding mental illness. Thousands of employees take the pledge each year, and many openly share why it matters to them:
I took the pledge and am moved to read everyone's comments about their struggles with mental health. I too have had my troubles and am inspired by this pledge to continue to do better at caring for myself and checking in with friends and family. Thank you for creating this pledge and for AT&T's consideration. #StampOutStigma
Stamp Out Stigma has been recognized by the National Business Group on Health's (NBGH) Best Employers for Healthy Lifestyles® awards program, which recognizes the best workforce well-being initiatives in the U.S. The campaign received a Special Recognition in the Emotional Health category.
Champions of Our Workplace Wellness Program
True wellness enthusiasts can join the YHM Champions program, a section of the workplace wellness program consisting of employee ambassadors who host local health events and activities, support YHM initiatives in their offices and encourage wellness among their colleagues. YHM equips these ambassadors with resources and training as well as recognition for their efforts. We couldn't do it without our Champions!
Your health—connected
AT&T is committed to bringing the same cutting-edge tools and technologies to employees that we provide to consumers. That's why we provide employees with a comprehensive well-being app through Castlight that helps them stay connected to our workplace wellness program, anywhere. This tool offers programs, information and rewards to help employees take charge of their health and financial well-being.
Interested in learning more about our benefits and other perks? Check out our full list of employee benefits.