Customer Service Sales Representative Priority Hiring
Rantoul, Illinois
Overview
Intermediate (1-2 years of experience)
Don't pass this one up. Inside our Call Centers, you can play a major role keeping customers happy and connected to the products and services they need most. Help us maintain our relationships with them, and grow your career along the way.
Ideal candidate
Have advanced
computer skills
Have a high school diploma
Be experienced in sales
Have experience with call
center work, preferred
Have experience in
retention, preferred
What makes a successful Retention Sales Representative?
Positive attitude
Adaptability - every call is different
Empathy
Calm under pressure
Persuasion skills
Start here. Go anywhere.
A role with us opens to endless possibilities for your career. See what we mean below: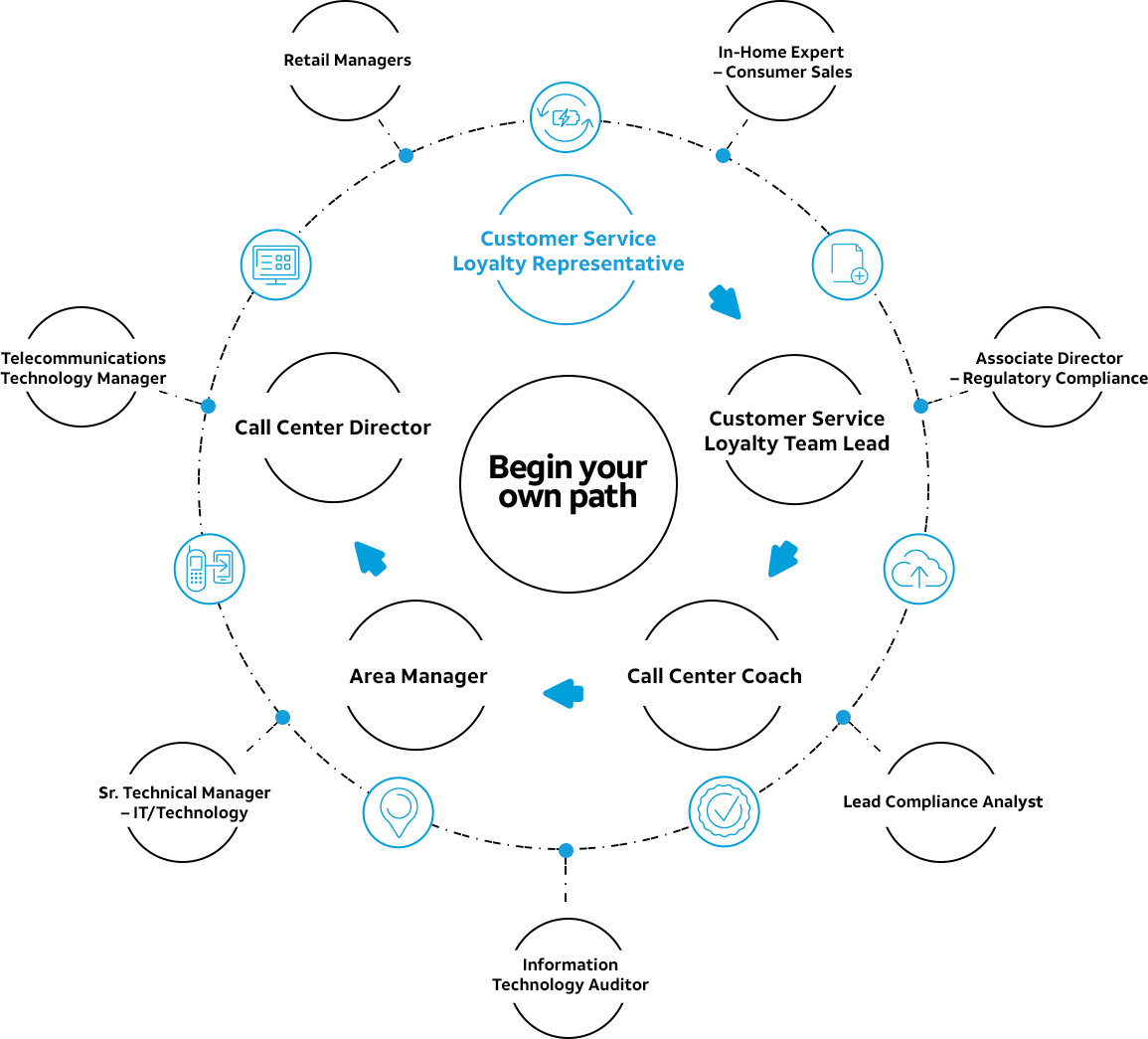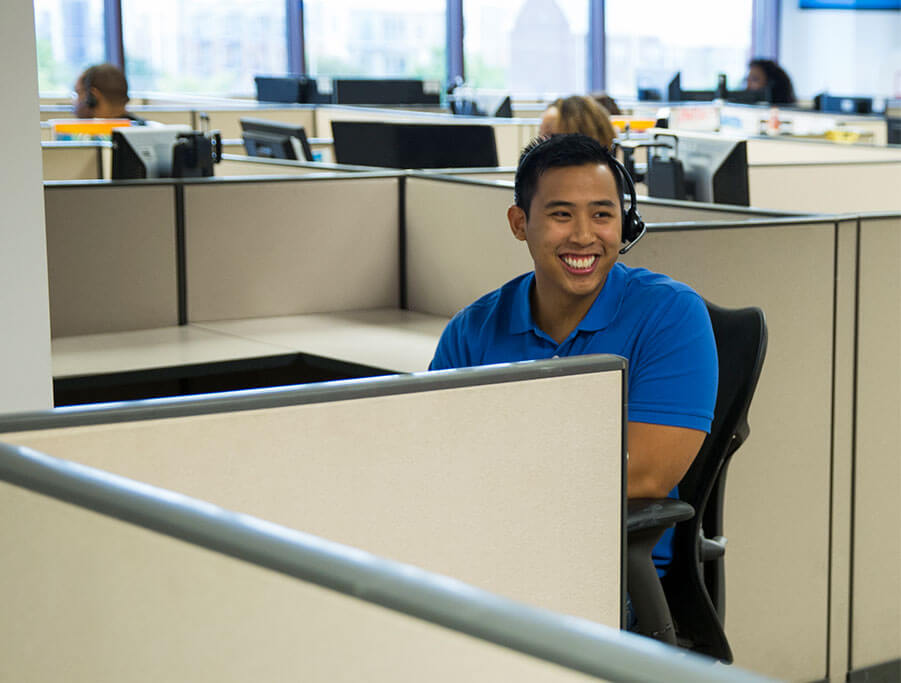 A day in the life
Not every customer is completely satisfied for any number of reasons. That's where you come in.
You'll bring strong skills in relationship building and conflict resolution to motivate customers to continue using our products. That means working with creative negotiation and sales techniques in a fast-paced environment.
Customers will be frustrated. That's why it's important for you to be a great empathetic listener.
Customer Service Sales Representative Priority Hiring
Rantoul, Illinois
Open House Hiring Event
Tuesday, August 27, 2019
10 a.m. - 2 p.m.
1 Aviation Center Dr. Rantoul, IL 61866
*Please complete application & assessment prior to the event for priority consideration...
It's an exciting time to be employed by AT&T. Through the hard work and dedication of our Call Center Representatives and leaders, our business is strong, progressing in our telecommunication arena and as well in our media platform with a bright future that includes new ideas and great opportunities. We are building, growing and transforming our business like no other. We are committed to provide our employees a stable work environment with equal opportunity for learning and personal growth. Creativity and innovation are encouraged for improving the effectiveness of AT&T.

Our Rantoul, IL Customer Service Representatives start between $15.26 and $17.01 per hour, that's an average yearly salary up to $36,958 per year. Plus, additional incentives and unlimited monetary earning. If you have prior customer service/sales experience or a college degree; you may be eligible for higher pay. Our management team offers up a supportive environment and motivates team members in growing professionally whether as an individual or as a team.
You'll also gain an amazing benefits package with medical/dental/vision coverage, 401(k) plan, tuition reimbursement and paid time off. But there is more; rounding out these benefits and perks we also provided a 50% employee discount on:

• AT&T internet & fiber
• AT&T phone (formerly U-verse Voice)
• DIRECTV (including Free HBO & NFL Sunday Ticket), DIRECTV NOW or U-verse TV

Take the lead at the front line of our company. You'll offer customized solutions, identify sales opportunities and provide service for millions of customers – one at a time. Be a part of an award-winning team that passionately cares about customers. Your expert recommendations will ensure customers get the most out of the technology they love.

What does it take to deliver best-in-class service and technology? Excellent communication skills, professionalism and a desire to close the deal on sales. You'll handle customer service calls ranging from billing and payments to plan changes and upgrades. While you offer solutions and resolve issues, you'll work to transition each call to a sales opportunity; working to meet daily and monthly sales goals. Your consultative approach to customers' needs will deliver personalized recommendations of AT&T products and services.

Career possibilities are limitless with AT&T. You will have the chance to round out your experience with on the job paid training on the latest technology, devices and our entire lineup of products, services and promotions. If you're 18 years or older, APPLY NOW & don't miss out on your FUTURE!

Job ID 1939390
Date posted 08/09/2019
Applicant Experience
Want to know what to expect? Here's a breakdown of the typical application process.
Check your status regularly. Timing varies, so log in to see where we are.
Check your email regularly for any follow-ups.
You may have to pass an assessment before moving on to the next step.
If you don't pass on your first attempt, you'll be eligible to retake your assessments after 6 months.
Your interview may be online. Make sure you have a strong connection and dress professionally.
Completing your assessment
Want an idea of what will be on the assessment? You can prepare by taking a look at our study guides:
Talent Network
Sign up to receive a monthly newsletter and be the first to know about career events, new openings and exclusive updates.
Amazing company.

Pros

Team work. Atmosphere. Money. Company. Great benefits. Good training. The company is a fortune 10 company and treads its workers as such.

Cons

They sales reps are expected to sale everything in entertainment. So not only are you worried about phones but also have to worry about directv.

Current Employee - AT&T Sales Representative in Tyler, TX

One Star Rating
Two Star Rating
Three Star Rating
Four Star Rating
Five Star Rating

Perks
We take care of our own here (hint: that could be you). Our benefits and rewards mean we cover some of your biggest needs with some of the coolest offerings. We already think we're a pretty great place to work. We're just trying to rack up some bonus points.
Party every (pay) day

Let's start with the big one: Your work gets rewarded with competitive compensation and benefits. It really does pay to be on our team.

Save on swag

Wanna make your friends really jealous? You'll get discounted access to the latest and greatest AT&T products and services – plus other awesome items, like tickets to live events.

Get some "you" time

Vacation? Staycation? Heck, let's take a road trip. On top of paid holidays, chill out with paid time off (PTO) that you can spend any way you want.

Upgrade your skill set

You strike us as an over-achiever (don't worry, it's a compliment). Our training and development programs are your ticket to expert status in your job.

Graduate to what's next

Our people have class. Literally. We can help you out on approved education costs with our tuition assistance plan.

Stuff your piggy bank

When the day comes that you get some much needed R&R (not that you'd ever want to leave #LifeAtATT) you'll know your future is set with the AT&T Retirement Savings Plan (ARSP).

Know you're covered

Here's another reason to breathe easy: You and your family get access to excellent medical, dental and vision insurance options.
LifeAtATT
This is the life – the #LifeAtATT, that is. We're creating what's next and having a blast doing it. You're looking for proof? Well, see for yourself.
See what it's like here