Bilingual Spanish Customer Service Representative Sales
Miami, Florida
Overview
Intermediate (1-2 years of experience)
Listen closely – because this is a pretty big deal. When you start in one of our Call Center Sales Representative roles, you'll grow a career by connecting with our consumer and business customers. So, dial in on a position where you solve problems, make sales and get ahead at a global company.
Ideal candidate
Have advanced computer skills
Have sales experience, either retail, technology or entertainment sales
Have experience building relationships with customers
Be familiar with sales contracts
What makes a successful Call Center Sales Representative?
Knowledge of products and services
Clear and effective communication
Adaptability - every call is different
Calm under pressure
Persuasion skills
Start here. Go anywhere.
A role with us opens to endless possibilities for your career. See what we mean below: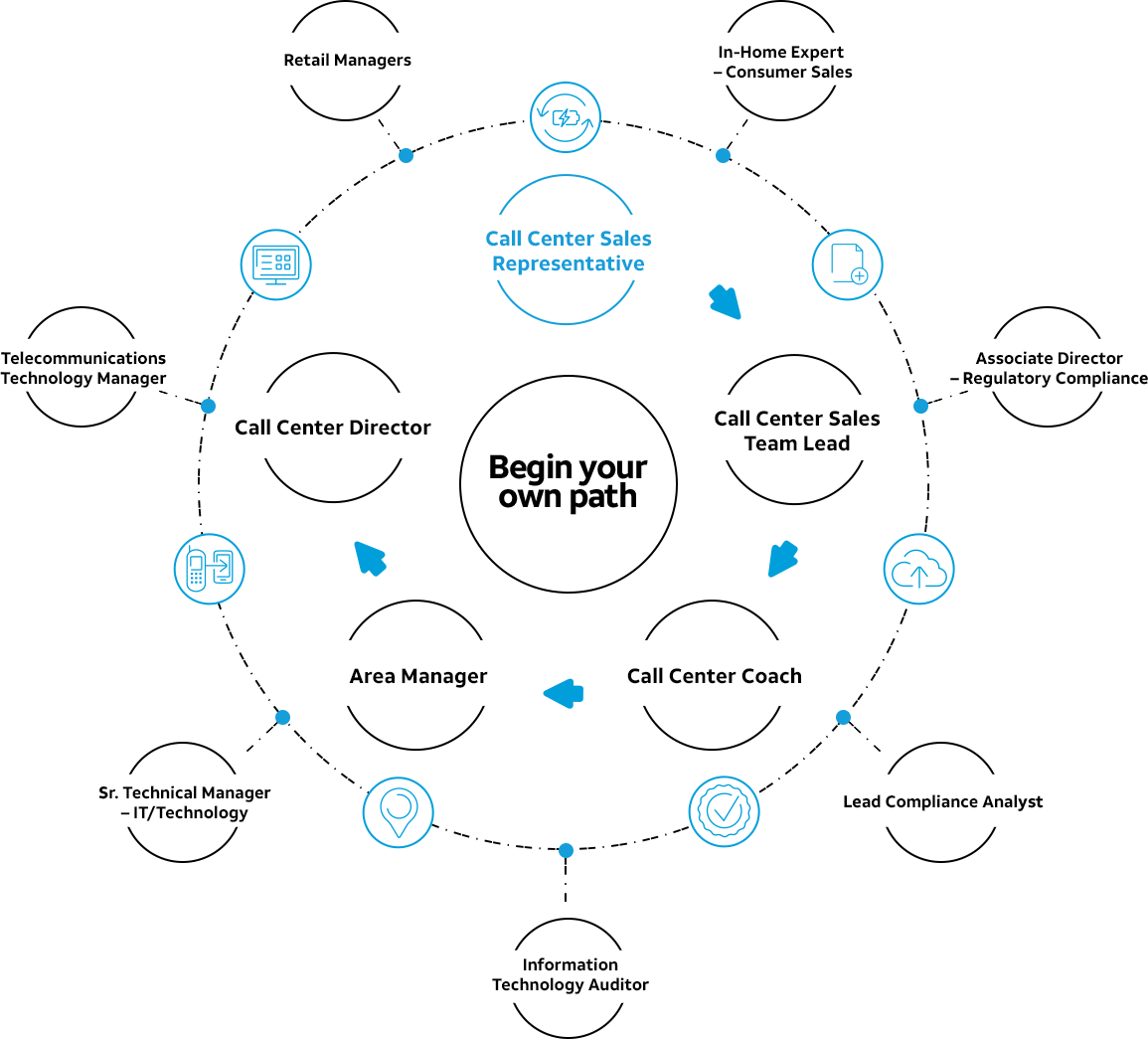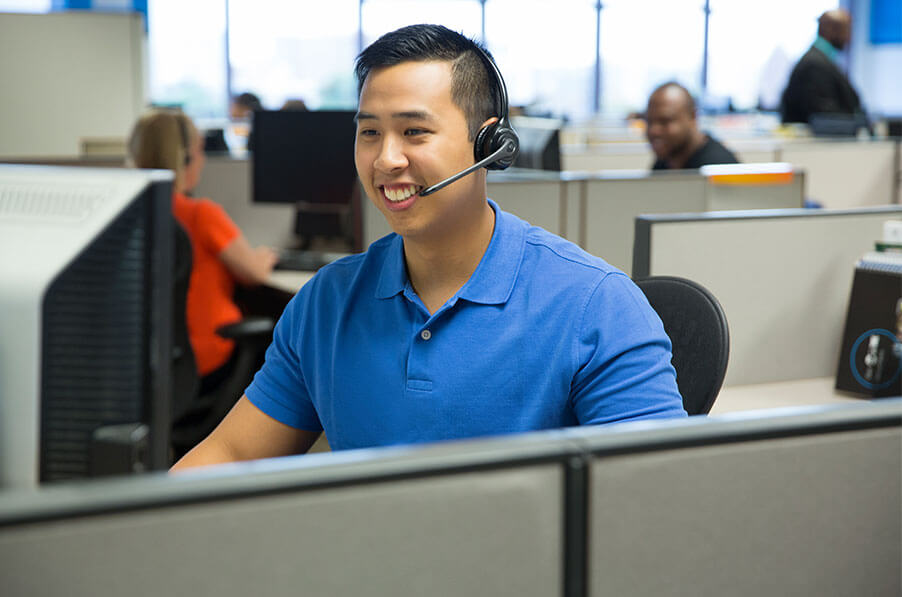 A day in the life
This role will have you interacting with either consumers or small business customers.
You'll sell them our latest products and services while also solving basic problems like forgotten passwords and troubleshooting.
For each deal, you'll oversee the signing of a sales contract.
Bilingual Spanish Customer Service Representative Sales
Miami, Florida
Do you speak Spanish and English? If you do, we are looking for you!

What's in it for you?

AT&T Customer Service Representatives can earn wages up to $16.76 per hour; which equals to a yearly salary of $34,866. Do you have prior customer service/sales experience or a college degree? If so, you may be eligible for higher pay. Bring your verifiable experience and education to the table to sweeten the deal. At this location there are additional monthly financial incentives currently available to you when you meet your sales goals and check all boxes on your performance. BUT there is more, you receive an automatic pay increase every 6 months of active service up to top pay! Base pay + commission; your future with AT&T is looking bright.

You'll also gain an amazing benefits package with medical/dental coverage, 401(k) plan, tuition reimbursement and paid time off. Rounding out these benefits and perks we also provide 50% employee discount on:
• AT&T internet & fiber
• AT&T phone (formerly U-verse Voice)
• DIRECTV (including Free HBO & NFL Sunday Ticket), DIRECTV NOW or U-verse TV

What does it take to deliver best-in-class service and technology?
Excellent communication skills, professionalism and a desire to close the deal on sales. You'll handle customer service calls ranging from billing and payments to plan changes and upgrades. While you offer customized solutions and resolve issues, you'll work to transition each call to a sales opportunity; working to meet daily and monthly sales goals. Your consultative approach to customers' needs will deliver personalized recommendations of AT&T products and services, ensuring that they get the most out of the technology they love.

Career possibilities are limitless with AT&T. We'll provide on-the-job paid training and resources in a supportive environment that encourages your professional growth.
You will have the chance to round out your experience with training on the latest technology, devices and our entire lineup of products, services and promotions.
If you're 18 years or older, let's talk.
Job ID 2002493
Date posted 01/23/2020
Applicant Experience
Want to know what to expect? Here's a breakdown of the typical application process.
Check your status regularly. Timing varies, so log in to see where we are.
Check your email regularly for any follow-ups.
You may have to pass an assessment before moving on to the next step.
If you don't pass on your first attempt, you'll be eligible to retake your assessments after 6 months.
Your interview may be online. Make sure you have a strong connection and dress professionally.
Completing your assessment
Want an idea of what will be on the assessment? You can prepare by taking a look at our study guides:
Talent Network
Sign up to receive a monthly newsletter and be the first to know about career events, new openings and exclusive updates.
A Solid Company to work for

Pros

Great Health Benefits, 401K match, incentives and commission, great perks like discounts on their services to employees.

Cons

Work life balance could be a challenge sometimes. Moving up can take some time, you may need to network more to move forward with a great career.

Former Employee - Sales Consultant, Retention Specialist in Homestead, FL

One Star Rating
Two Star Rating
Three Star Rating
Four Star Rating
Five Star Rating

Perks
We take care of our own here (hint: that could be you). Our benefits and rewards mean we cover some of your biggest needs with some of the coolest offerings. We already think we're a pretty great place to work. We're just trying to rack up some bonus points.
Party every (pay) day

Let's start with the big one: Your work gets rewarded with competitive compensation and benefits. It really does pay to be on our team.

Save on swag

Wanna make your friends really jealous? You'll get discounted access to the latest and greatest AT&T products and services – plus other awesome items, like tickets to live events.

Get some "you" time

Vacation? Staycation? Heck, let's take a road trip. On top of paid holidays, chill out with paid time off (PTO) that you can spend any way you want.

Upgrade your skill set

You strike us as an over-achiever (don't worry, it's a compliment). Our training and development programs are your ticket to expert status in your job.

Graduate to what's next

Our people have class. Literally. We can help you out on approved education costs with our tuition assistance plan.

Stuff your piggy bank

When the day comes that you get some much needed R&R (not that you'd ever want to leave #LifeAtATT) you'll know your future is set with the AT&T Retirement Savings Plan (ARSP).

Know you're covered

Here's another reason to breathe easy: You and your family get access to excellent medical, dental and vision insurance options.
LifeAtATT
This is the life – the #LifeAtATT, that is. We're creating what's next and having a blast doing it. You're looking for proof? Well, see for yourself.
See what it's like here