Bilingual Spanish Part Time Retail Sales Consultant
Danbury, Connecticut
Overview
Ready to kick-start your career with an innovative global leader? Just say the word. Seriously, your skills in Spanish will help us connect to more people than ever. And when you do it with a major company like us, you'll find some incredible long-term potential for your career. Plus, along the way, you'll get your hands on great pay and the latest tech.
Success profile
For this role, you must also have:
Speak both Spanish and English fluently

Be at least 18 years old

A solid understanding of the latest tech

Completed a high school degree or GED

Previous retail experience is nice, but not necessary
What makes a successful Retail Consultant?
Outgoing
Engaging
Approachable
Excellent Customer Service
Self-Motivated
Initiative
My role is challenging and encourages me to keep learning every day. I want to be well-prepared for the next big thing.
Daisy — Bilingual Retail Sales Consultant
Being able to interact with customers who do not speak English has truly developed me not only as a leader, but as the face of AT&T within the Hispanic community.
Manny — Bilingual Retail Sales Consultant
It gives me a great positive feeling when I know the customers leave satisfied and well informed of all the services they have with AT&T.
Daniel — Bilingual Retail Sales Consultant
Why AT&T
You already know us as the team that connects people all over the world.
Now, thanks to your incredible talents, you have the chance to help us do it.
Join a global leader

Unlock new opportunities, starting right in our stores. This is just the start of an impressive career, one you can take anywhere across our company.

Solve customers' challenges

With your skills, you can help connect to customers and unlock the solutions they're looking for.

Experience the hottest tech

You already know some of the devices we sell. And as tech keeps improving, we'll help you constantly upgrade your skill set so you can comfortably represent us as a leader in the space.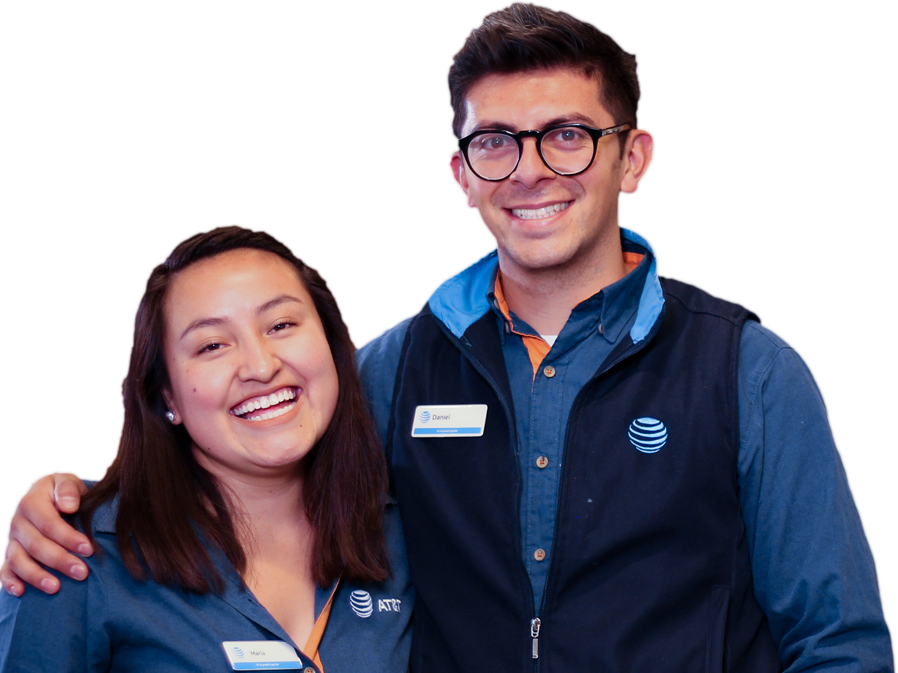 Hard work earns you perks
We believe in taking care of our team. Our awesome perks are just one way we show it. In school? You just might be eligible for tuition reimbursement. Planning a trip? We offer paid time off. And that's all on top of our 401(k) plan and medical and dental coverage.
Graduate to what's next
Our people have class. Literally. We can help you out on approved education costs with our tuition assistance plan.
Know you're covered
Here's another reason to breathe easy: You and your family get access to excellent medical, dental and vision insurance options.
Party every (pay) day
Let's start with the big one: Your work gets rewarded with competitive compensation and benefits. It really does pay to be on our team.
Save on swag
Wanna make your friends really jealous? You'll get discounted access to the latest and greatest AT&T products and services – plus other awesome items, like tickets to live events.
Stuff Your Piggy Bank
When the day comes that you get some much needed R&R (not that you'd ever want to leave #LifeAtATT) you'll know your future is set with the AT&T Retirement Savings Plan (ARSP)
Earn while you learn
With paid training, we'll fill you in on everything you need to know before you start – and throughout your career.
Vacation? Staycation? Heck, let's take a road trip. On top of paid holidays, chill out with paid time off (PTO) that you can spend any way you want.
Take your future further
Your career starts in our stores. But with us, it can go just about anywhere. So, if you want to rise in the ranks to Retail Manager, we'll help you get there. Or maybe you see yourself in another awesome role throughout our company. Whatever you're interested in, we have it here.
Responsibilities
Bilingual Spanish Part Time Retail Sales Consultant
Danbury, Connecticut
Do you speak Spanish and English? If you do, we're looking for you! Our Retail Careers come with awesome perks and may include additional starting pay if you are bilingual!

Great things are in store! Our part-time careers allow you to optimize your earning potential by working during the store's busiest times, including evening and weekend hours. Excellent pay and fewer hours with more opportunities to make the sale... what are you waiting for?

Do you like helping people? Do you have a strong desire to connect people with technology and entertainment? You may have what it takes to join our amazing team! Our Retail Sales Consultants build solutions for our valued customers and meet/or exceed key sales objectives. They work with a full portfolio of awesome products including wireless, connected car, and wearables. They also offer integrated, seamless, and smart entertainment options including DIRECTV.

You'll use your knowledge and passion to deliver an effortless customer experience while pursuing challenging and rewarding goals! This role comes with a very competitive salary and commission package as well as awesome benefits. We are passionate about innovation, we love our employees and we love connecting our customers to their world.

Sharing your knowledge with our growing customer base comes with many rewards. Start with the paycheck: Base plus commission. Our current part-time Retail Sales Consultants working 20-24 hours per week earn an average of $30,380 per year in total compensation.

You'll also gain an amazing benefits package, including:
•Ongoing paid training
•Exciting career paths
•Supportive team environment
•Employer-provided mobile device
•Medical/dental coverage
•401(k) plan
•Tuition reimbursement
•Paid time off

Not to mention some pretty cool perks, like:
•One of our latest devices and a service plan. Using our technology, gain first-hand expertise to share with our customers.
•Discounts on accessories and additional AT&T products and services. That means you always have access to the coolest gadgets around.
•A spring and fall fund to spend on a wide range of Team Color apparel. You'll even receive a welcome kit of fun gear to get you started (including two shirts).

Prior retail or customer-facing sales experience is a plus but not required. AT&T Sales training will be provided.

You may be invited to complete an interview by recording a video, so make sure to watch your email for updates.

Apply now!


Job ID 2001623-2
Date posted 03/26/2020
Connect with us
As always, stay up-to-date with what our lives are really like by following #LifeAtATT on social.
And you can be the first to know about our latest new, events and job opportunities by joining our Talent Network.
Applicant experience
Want to know what to expect? Here's a breakdown of the typical application process.
Check your status regularly. Timing varies, so log in to see where we are.
Check your email regularly for any follow-ups.
Your interview may be online. Make sure you have a strong connection and dress professionally.
Awesome company

I have been working at AT&T.

Pros

Great benefits, employees were awesome, great service discounts for employees. The culture was great. I would recommend this company to anyone I know.

Cons

I don't have any cons about this company at all. My experience with them was the best one I had in comparison to any other company I have worked for.
One Star Rating
Two Star Rating
Three Star Rating
Four Star Rating
Five Star Rating