Bilingual Spanish In Home Sales Expert
PARAMUS, New Jersey
Overview
As a Bilingual Retail Sales Consultant, being fluent in Spanish will give you the chance to be our voice, meeting customer needs and showing them what AT&T is all about. Our goal is to connect the world – and you can help us do it.
Full-time and Part-time: may include nights & weekends
What makes a successful Retail Consultant at AT&T? Check out the traits we're looking for and see if you have the right mix.
Enthusiastic 10
Communicator 8
Adaptable 8
Persuasive 7
Quick-thinking 4
Trustworthy 10
Bilingual Spanish In Home Sales Expert
PARAMUS
,

New Jersey
Location Details: Bergen county and surrounding areas
Bilingual Spanish Preferred
Do you enjoy educating customers?  Do you have a strong desire to connect people with technology and entertainment? If you answered yes, then open the door to your future! 
In this role, you will bring an AT&T white glove experience right into the customer's home. You'll be part of the team that walks our customers through AT&T's cutting-edge products, shows them the benefit of our advanced services, and ultimately closes the deal. We aren't just a phone company anymore and you aren't just any sales person!  This could be your chance to join a company that's known for being innovative, successful, and ahead of the curve.
Overall Purpose  A direct sales position that generates new sales of AT&T products and services to current AT&T residential customers. 
Key Roles and Responsibilities
Sell AT&T products and services in the residential customer's home in coordination with their DIRECTV installation. 
Assist residential customers with setting up new devices and applications during the home visit. 
Achieve sales and service objectives. 
Work assigned daily appointments within a specific area/territory
Track and report activities through established processes and procedures. 
In this role you'll gain amazing benefits, including:
•       Salary + Commission
•       Use of a company car                   
•       Supportive team environment
•       Medical/Dental/Eye coverage
•       401(k) plan
•       Tuition reimbursement
•       Paid time off
•       Ongoing paid training
•       Exciting career paths
 Not to mention cool perks, like:
•       One of our latest devices and a service plan. Using our technology, gain first-hand expertise to share with our customers.
•       Discounts on AT&T products and services as well as the accessories you need. That means you always have access to the coolest gadgets around.
Are you ready to open the door to an amazing career with AT&T?
Required Qualifications:   
Sales skills                         

Strong customer service skills

Strong communication skills (written & oral)

Successfully complete a background check, driver's license check and substance abuse testing

A valid driver's license and good driving record

Employee must be able to work flexible hours, including evenings & weekends 
Desired Qualifications:
1- 3 Years of Direct Sales Experience

Sales background in television, wireless or other telecommunication products

AT&T product knowledge
Job ID 1847288
Date posted 10/09/2018
Applicant Experience
Want to know what to expect? Here's a breakdown of the typical application process.
Your experience can take between 4 – 6 weeks depending on location and time of year.
Check your email regularly for any follow-ups.
You may have to pass an assessment before moving on to the next step.
If you don't pass on your first attempt, you'll be eligible to retake your assessments after 6 months.
Your interview may be online. Make sure you have a strong connection and dress professionally.
How to prepare for your assessment
Our goal is to set you up for success at AT&T.
That's why we're providing you with the information you need to prepare for the entire application process. In particular, your assessment will ask behavioral questions to test if your sales and customer services skills are a good fit for this opportunity. When you're getting ready, it's a good idea to find a quiet place, get in the zone and answer as honestly as possible. And to prevent any errors from happening, make sure you are doing so on a computer and not a mobile device.
If you want to get a better idea of what will be involved, check out our Retail Sales Consultant Study Guide
Great experience

Pros

Corporate benefits, 401k,healthcare, commission on top of hourly rate, management is great at mentoring, large company with room to grow

Cons

Weekend and holiday hours- what you would expect working a retail position. Commission could be tough especially with competition for high volume sales- stand your ground and follow up with your leads to close deals

Current Employee - Retail Sales Associate

One Star Rating
Two Star Rating
Three Star Rating
Four Star Rating

Start here, go anywhere
As a Retail Sales Consultant, you'll have access to training and rewards (like tuition reimbursement) — empowering you to blaze your own trail and explore other business areas.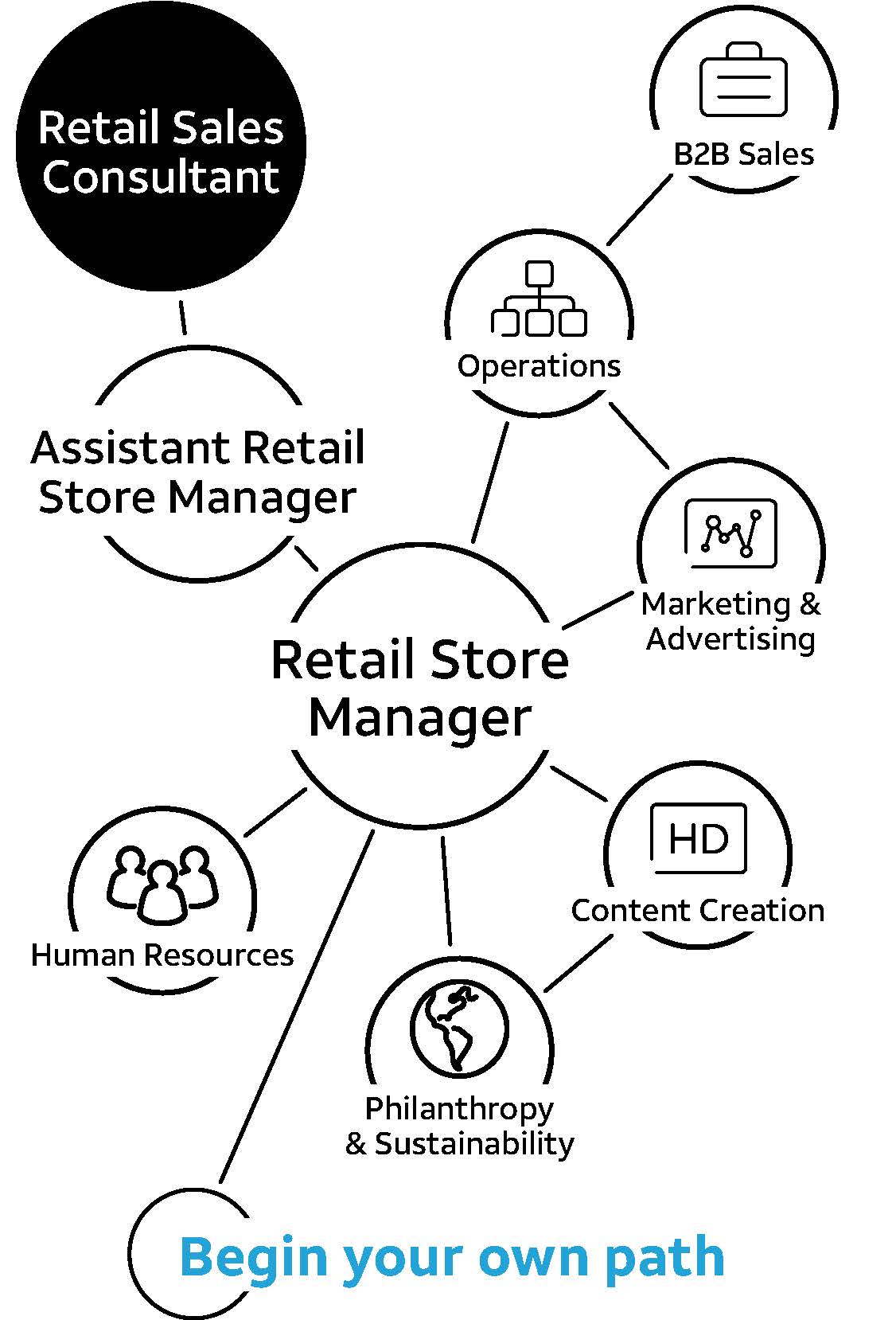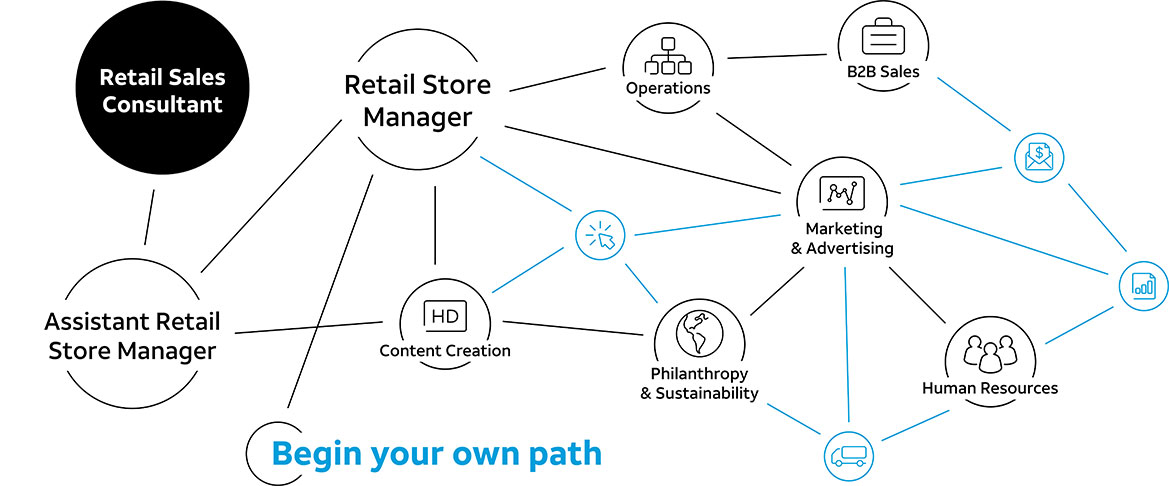 Perks
We take care of our own here (hint: that could be you). Our benefits and rewards mean we cover some of your biggest needs with some of the coolest offerings. We already think we're a pretty great place to work. We're just trying to rack up some bonus points.
Party every (pay) day

Let's start with the big one: Your work gets rewarded with competitive compensation and benefits. It really does pay to be on our team.

Save on swag

Wanna make your friends really jealous? You'll get discounted access to the latest and greatest AT&T products and services – plus other awesome items, like tickets to live events.

Get some "you" time

Vacation? Staycation? Heck, let's take a road trip. On top of paid holidays, chill out with paid time off (PTO) that you can spend any way you want.

Upgrade your skill set

You strike us as an over-achiever (don't worry, it's a compliment). Our training and development programs are your ticket to expert status in your job.

Graduate to what's next

Our people have class. Literally. We can help you out on approved education costs with our tuition assistance plan.

Stuff your piggy bank

When the day comes that you get some much needed R&R (not that you'd ever want to leave #LifeAtATT) you'll know your future is set with the AT&T Retirement Savings Plan (ARSP).

Know you're covered

Here's another reason to breathe easy: You and your family get access to excellent medical, dental and vision insurance options.
LifeAtATT
This is the life – the #LifeAtATT, that is. We're creating what's next and having a blast doing it. You're looking for proof? Well, see for yourself.
See what it's like here
Talent Network
Sign up to receive a monthly newsletter and be the first to know about career events, new openings and exclusive updates.
Join Now