Bilingual Mandarin Store Manager III - Flushing, NY
New York, New York
Overview
As a Bilingual Retail Sales Consultant, being fluent in Mandarin will give you the chance to be our voice, meeting customer needs and showing them what AT&T is all about. Our goal is to connect the world – and you can help us do it.
Full-time and Part-time: may include nights & weekends
What makes a successful Retail Consultant at AT&T? Check out the traits we're looking for and see if you have the right mix.
Enthusiastic 10
Communicator 8
Adaptable 8
Persuasive 7
Quick-thinking 4
Trustworthy 10
Bilingual Mandarin Store Manager III - Flushing, NY
New York, New York
$1000 sign on bonus
Position: Store Manager 3
Location: Flushing, NY
Bilingual Mandarin Required
Join our AT&T family where innovation, collaboration, customer service and exciting entertainment products all come together! You'll be leading a team of best-in-class salespeople who thrive in a collaborative culture to exceed sales targets, continuously earn JD Power's top customer service ratings, develop our team, and work together to deliver exciting TV and mobility products to customers. Store Manager is responsible for store profitability, sales, customer experience and leading/supervising/coaching all sales associates. Qualified candidates will inspire and engage employees through motivation and leading by example. AT&T encourages community involvement- we look to our leaders to understand the communities and customers that they serve. We offer a rapid pace in an ever changing industry. Strategic thinkers that champion change will thrive in this sales-centric environment.
ROLES & RESPONSIBILITIES
Customer Experience and Sales
Fully accountable for store implementation of The AT&T Retail Promise
Fully accountable for execution of sales, service and customer experience initiatives in store
Supervise store personnel to: Meet and exceed assigned goals for:  customer experience and reputation, sales and service, revenue and productivity
Demonstrate the right customer behaviors defined by Delivering an Extraordinary Experience
Ensure every seller follows the AT&T Retail Experience and executes on all 5 Key Behaviors at all times 
Consistently demonstrate excellent leadership and coaching skills
Create a work environment where motivated people can excel
Oversee Store floor experience – Act as Floor General
Own Customer Coordination,Welcome and Wait Time process
Support Team and assist with customer transactions
Coach and counsel personnel on "opportunities" with key sales and reputation metrics, recognize positive performance against key sales and reputation metrics and hold people accountable for poor performance
Perform role plays with personnel on a regular basis to demonstrate "what right looks like"
Facilitate weekly personnel training/educational sessions
Monitor the Customer FeedbackTool on a daily basis
Resolve or escalate appropriately any billing or service issues
Employee Management and Development
Interview, hire and make necessary discipline decisions, including terminations, for store personnel
Inspire and engage employees by motivating team to succeed
Lead by example
Develop employees for growth and promotion by delegating appropriate responsibilities and inspecting completion
Improve employee engagement throughout territory through appropriate behaviors and actions
Develop and execute individual development plans for store personnel
Observe and coach employees to provide feedback around sales technique effectiveness and providing excellent customer service   
Conduct On The Spot (OTS) Coaching
Execute A & D process for direct reports
Ensure personnel adhere to the Code of Business Conduct and conduct investigations with HR as needed
Resolve quickly any Rep or Store level fraud issues communicated by ARSM, may involve working with Asset Protection and/or HQ Credit and Collections
Fully understand and assist in educating personnel on the compensation plan and ensure employees know how to maximize
Ensure Fair Labor Standards Act (FLSA) compliance
Approve and communicate temporary assignments and overtime for floating personnel
Product Launches
Partner with Area Retail Sales Manager and other appropriate parties to successfully launch new products, services or processes
Actively inspect post-launch and drive improved results with best practices
Inspect that employees are properly trained on new products and promotions to sell with confidence
Document and report concerns with sellers' knowledge and/or behavior and provide additional coaching and/or discipline as appropriate
Coordinate with security, facilities and mall management to ensure smooth product launch day execution
Store Operations
Staffing/Scheduling
Act as Floor General – responsible for all activity in store at all times
On the sales floor the majority of the time to coach and develop personnel
Partner with Area Retail Sales Manager to review headcount forecast plan and staffing
Employ Scheduling Tool to properly staff hot zones and meet business needs, training and special events such as product launches
Ensure employee preferences/constraints are loaded into the Scheduling Tool on a monthly basis
Merchandising
Accountable for adhering to the iPOG and the merchandising standards
Instill a sense of pride and ownership in store appearance – where all employees understand their store is the face of AT&T to every customer
Compliance
Drive operational compliance of back office processes, procedures and policies
Ensure timely completion of required training to empower personnel to succeed
Implement, execute and inspect existing and new retail programs, tools and training
Execute monthly cost reviews of overtime, discounts, returns and credits
Responsible for performing Access Review Tool (ART) periodic audits for direct employees to ensure they have the appropriate level of system/tool access for their roles and responsibilities.
Other
Report fraudulent activity to Asset Protection
On call for store emergencies
Demonstrate AT&T Extraordinary Leader Model Characteristics
Continuously display high integrity
Develop strategic perspective and champion change
Inspire others to high performance through collaboration and teamwork
Utilize professional expertise to solve problems and analyze issues
Capture initiative and strive for results
Required Qualifications
Two years sales/customer service experience in telecommunications or related industry
One year management experience
Excellent sales skills and demonstrated ability to meet or exceed performance standards
Ability to motivate and lead direct reports
Ability to work flexible hours, including evenings, weekends and holidays
Ability to operate a personal computer, wireless equipment, copier and fax
Desired Qualifications
Three or more years sales/customer service experience in the telecommunications or related industry
Previous management experience in the telecommunications or related industry
Effective communication, presentation and interpersonal skills
Strong organizational skills with attention to detail
Ability to work at multiple locations within district preferred
Familiarity with wireless terminology and AT&T Mobility systems preferred
Provisions listed in these Job Descriptions may be changed or modified by AT&T Mobility without prior notice at any time, at the Company's sole discretion.
Job ID 1851636
Date posted 11/01/2018
Applicant Experience
Want to know what to expect? Here's a breakdown of the typical application process.
Your experience can take between 4 – 6 weeks depending on location and time of year.
Check your email regularly for any follow-ups.
You may have to pass an assessment before moving on to the next step.
If you don't pass on your first attempt, you'll be eligible to retake your assessments after 6 months.
Your interview may be online. Make sure you have a strong connection and dress professionally.
How to prepare for your assessment
Our goal is to set you up for success at AT&T.
That's why we're providing you with the information you need to prepare for the entire application process. In particular, your assessment will ask behavioral questions to test if your sales and customer services skills are a good fit for this opportunity. When you're getting ready, it's a good idea to find a quiet place, get in the zone and answer as honestly as possible. And to prevent any errors from happening, make sure you are doing so on a computer and not a mobile device.
If you want to get a better idea of what will be involved, check out our Retail Sales Consultant Study Guide
Great experience

Pros

Corporate benefits, 401k,healthcare, commission on top of hourly rate, management is great at mentoring, large company with room to grow

Cons

Weekend and holiday hours- what you would expect working a retail position. Commission could be tough especially with competition for high volume sales- stand your ground and follow up with your leads to close deals

Current Employee - Retail Sales Associate

One Star Rating
Two Star Rating
Three Star Rating
Four Star Rating

Start here, go anywhere
As a Retail Sales Consultant, you'll have access to training and rewards (like tuition reimbursement) — empowering you to blaze your own trail and explore other business areas.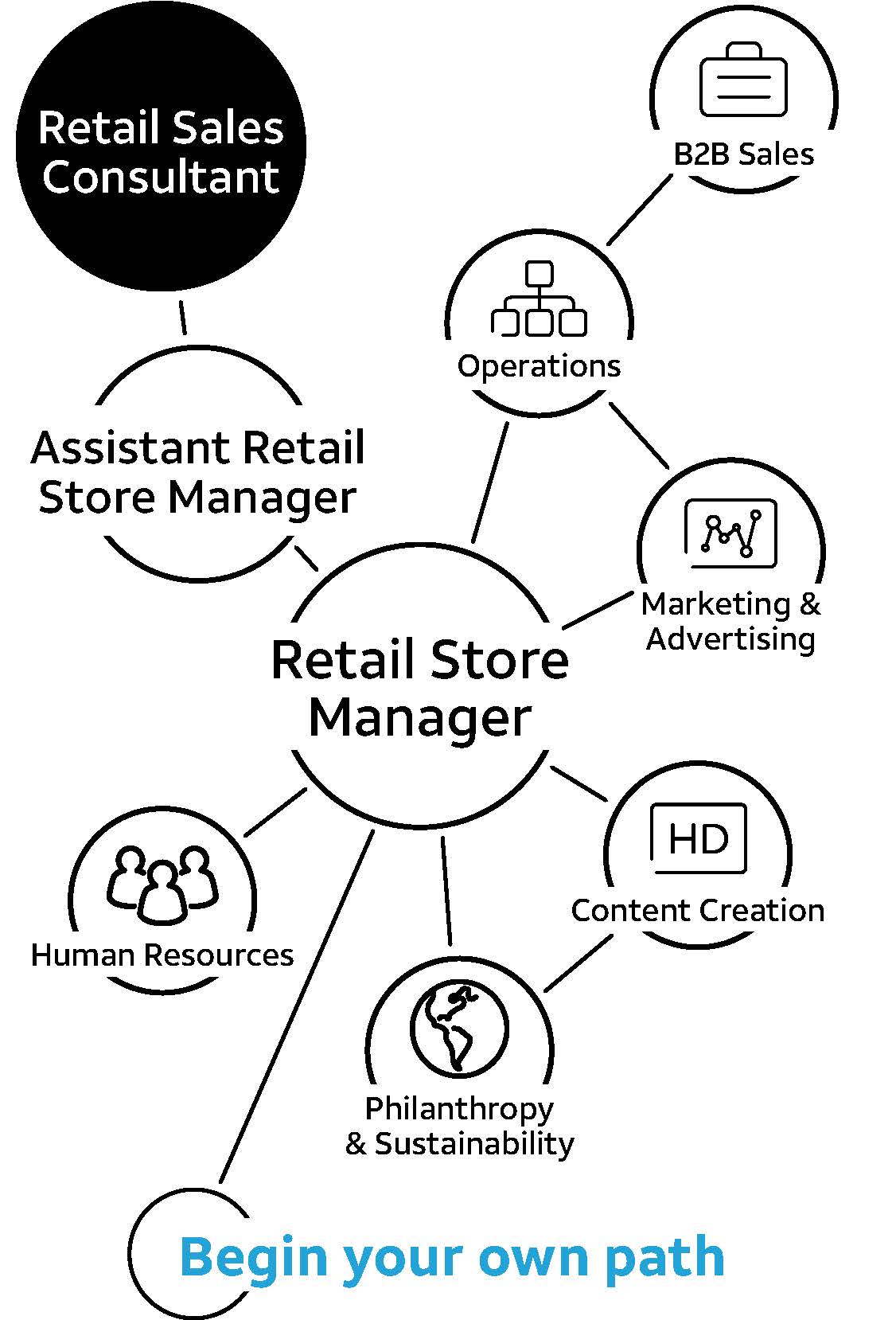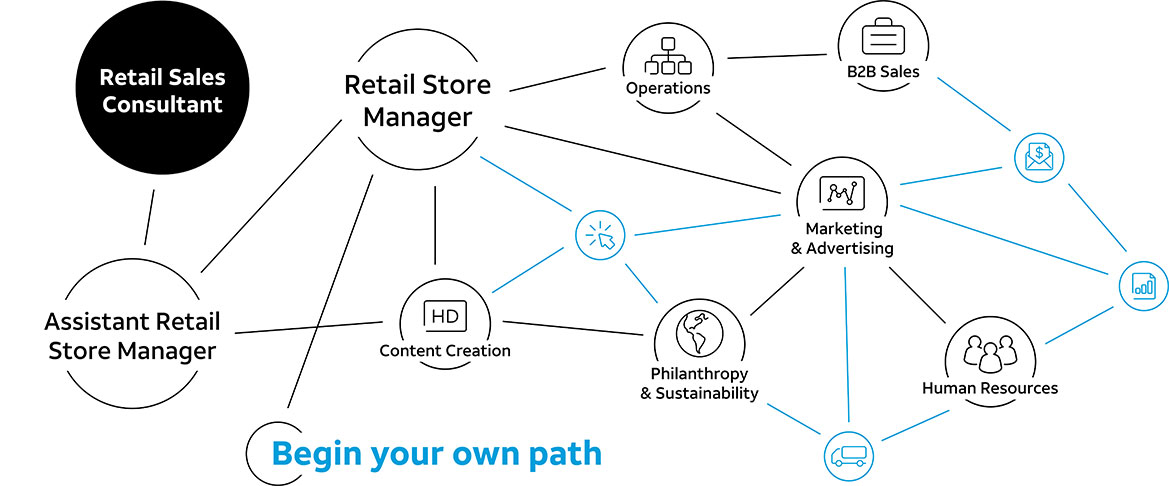 Perks
We take care of our own here (hint: that could be you). Our benefits and rewards mean we cover some of your biggest needs with some of the coolest offerings. We already think we're a pretty great place to work. We're just trying to rack up some bonus points.
Party every (pay) day

Let's start with the big one: Your work gets rewarded with competitive compensation and benefits. It really does pay to be on our team.

Save on swag

Wanna make your friends really jealous? You'll get discounted access to the latest and greatest AT&T products and services – plus other awesome items, like tickets to live events.

Get some "you" time

Vacation? Staycation? Heck, let's take a road trip. On top of paid holidays, chill out with paid time off (PTO) that you can spend any way you want.

Upgrade your skill set

You strike us as an over-achiever (don't worry, it's a compliment). Our training and development programs are your ticket to expert status in your job.

Graduate to what's next

Our people have class. Literally. We can help you out on approved education costs with our tuition assistance plan.

Stuff your piggy bank

When the day comes that you get some much needed R&R (not that you'd ever want to leave #LifeAtATT) you'll know your future is set with the AT&T Retirement Savings Plan (ARSP).

Know you're covered

Here's another reason to breathe easy: You and your family get access to excellent medical, dental and vision insurance options.
LifeAtATT
This is the life – the #LifeAtATT, that is. We're creating what's next and having a blast doing it. You're looking for proof? Well, see for yourself.
See what it's like here
Talent Network
Sign up to receive a monthly newsletter and be the first to know about career events, new openings and exclusive updates.
Join Now