In our Women Who Inspire series, we'll be talking to influential women who are making a difference in their communities and the world at large. Through their leadership, we are inspired to do better, work smarter, and continue to create opportunities for women in STEM.
Shay Phillips focuses on technical innovation, creation and implementation to successfully deliver, bill and maintain services. Passionate about fostering the development of others, she takes the time to mentor those around her, especially by participating in organizations that stimulate the advancement of women in the professional realm. Take a look at how Shay got involved with STEM and AT&T and the advice she offers other women trying to break into the field:
What inspired you to pursue a STEM-related career?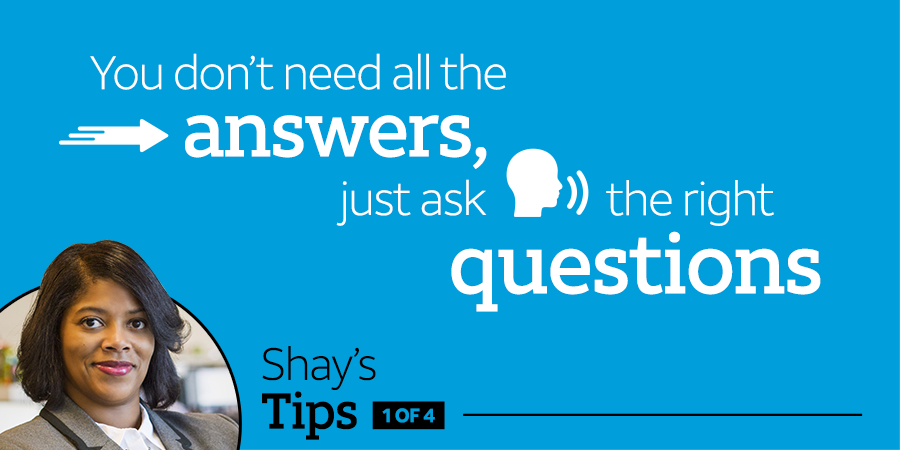 My career in STEM has fed my passion for the following two areas: fostering an environment that promotes risk taking by encouraging others to question the status quo – all in an effort to improve experiences while driving efficiency – and using my personal journey to help women and minority leaders understand how they can chart their path to leadership and success.
I started working for AT&T as a service representative. I saw it as a great opportunity to get my foot in the door, and I was eager to prove myself. Through a lot of hard work, an eye for critical problem solving and inventive thinking, I was given an opportunity to step into leadership roles.
Even though I started my career without a college degree, it didn't slow me down. I have built my reputation on solving complex problems in new and innovative ways in order to transform the experience of my internal and external clients. I'm not afraid to ask the hard questions and break the mold, which is why I've been able to pioneer so many firsts within the company.
I am also passionate about mentoring, and despite my busy schedule, I constantly seek out opportunities to mentor others.
Opportunities exist. You just can't be afraid to seize them.
What do you love most about your job?
Every day is different, presenting us with a new challenge to solve, and I love it. Moreover, it's rewarding to know that the work we are doing has a direct impact on the customer experience we can deliver, as well as our ability to achieve the low cost structure needed for the scale of our program. self-service based, low cost structure needed for the scale of our program.
What fascinates you most about your field?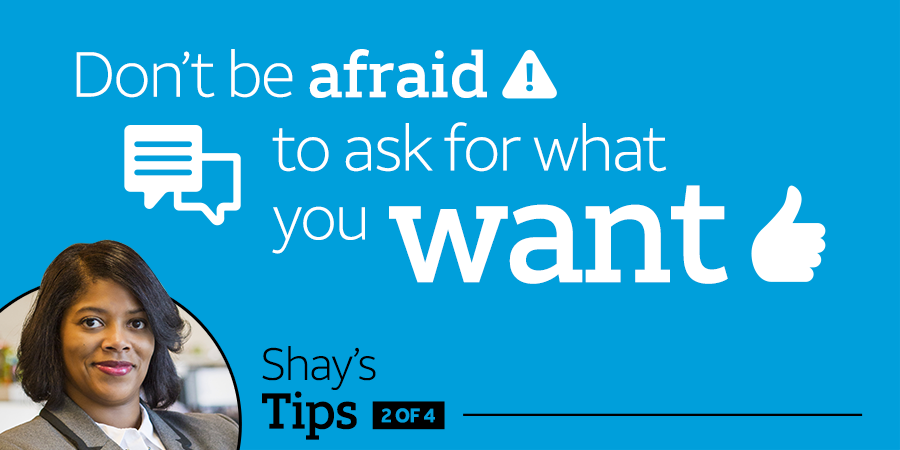 I'm most fascinated about the ability to transform how we do business. We constantly assess our interactions with solution providers to determine if we can do it better, faster and more efficiently. We innovate around the idea of enabling them to better serve their customers through self-service tools. We've accomplished a lot, but there's so much more we can do, and that's exciting.
What advice can you give women who are seeking a career in a STEM-related field?
Whether or not you have a background in STEM, remember that you don't have to meet 100% of the requirements to be the right person for the job. Just be ready to tell your story, create your professional proof points and support them with the facts of what you've accomplished.
Who are some of the women you think are game-changers in the technology industry right now?
Internally, we have a tremendous number of female game-changers. Looking outside of our company, I'm inspired by Ursula Burns, Chairman and CEO of Xerox. It's extremely motivating to see a female leader rise to the top executive level. Ursula shows that regardless of where you come from, you can accomplish extraordinary things. Looking at her background, I see so many commonalities, and it's encouraging to watch someone so relatable attain so much success. We both have humble beginnings, started in entry-level positions and held various roles within our companies to gain an in-depth understanding of the business. She's a classic example that it's what you do with the opportunity that truly counts.
Were there any mentors who have made an impact on your life? If so, who were they and how did you connect?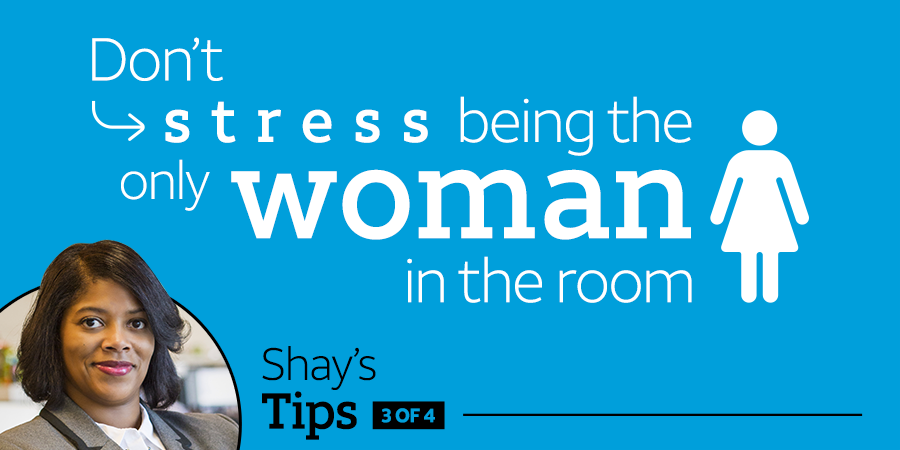 I've had a lot of great mentors over the years who have impacted my life in profound ways. But I often reflect on what I learned from Cathy Coughlin, former AT&T Global Marketing Chief. Cathy and I met very early in my career; I was a Project Manager, and she was the Midwest Consumer President. She could bring calm to chaos, and I admired her ability to take on any role and be successful. I had the opportunity to work closely with her over the years, and she taught me some really valuable lessons:
Surround yourself with really smart people.
You don't have to know all the answers, you just have to ask the right questions.
People matter, so treat them right.
What advice do you have for women technologists who are struggling on all-male teams or are hesitant about pursing STEM because they are entering into a male-dominated arena?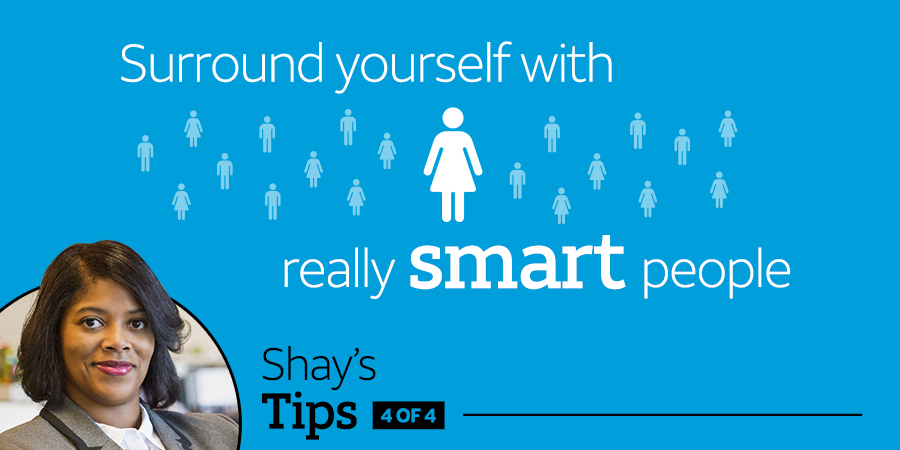 If you're struggling on an all-male team, I'd recommend first identifying why, and then assessing the actions you can take to address the situation. For example, if you feel you are being overlooked for opportunities, take ownership of the situation. Don't be afraid to ask for what you want, pointing to your capabilities and great results to back it up. Women have endless potential, and the more we acknowledge it, the more and more people – women and men alike – will start to believe it (if they don't already).
The less emphasis you put on being a woman in a man's world, the less of a man's world it will become. So rather than hesitating to do something because it's male-dominated, try jumping into something because it's male-dominated.
Why do you think women are leaving the STEM arena? And what can employers do to retain more women in STEM?
When you look at the various studies across the tech industry, the factors for why women leave typically range from the level of support felt to limited flexibility in creating sustainable work/life integration.
AT&T is really great at fostering a culture and providing the programs that enable women to reach their highest potential. For instance, I participate in the Women of AT&T Employee Resource Group and also led the only all-female mentoring circle within Partner Exchange. Plus, I was part of the 2013 graduating class for AT&T's Executive Women's Leadership Experience, which is an immersive learning program focused on building high-potential female leaders within the company.
Not only do I feel like I have the support I need from a mentorship perspective, but I also feel like I have continued access to opportunities to both enhance my skill set and grow my career.
On the flip side of this, I'm aware that my work life and personal life aren't perfectly balanced, and I'm okay with that. It's about making choices I can live with. One week I may prioritize work while the other week I prioritize my personal life, and I don't feel guilty about either. It's important to realize there are only 1,440 minutes in a day, so you need to choose to spend them on what's important to you.
What do you think will have the strongest impact on closing the gender gap in STEM-related careers?
It's important for women to see other women be successful in the STEM field and know it's a possibility for them, too. Great female examples coupled with STEM programs focused on diversity and strong sponsorship are the keys to closing the gender gap.
Connect with Shay on Twitter.
See more Women Who Inspire and learn more about the women of AT&T.