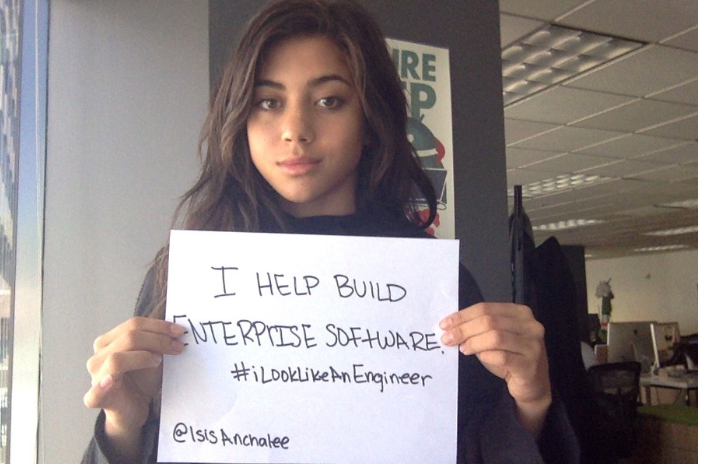 Female engineers at AT&T are jumping on-board Isis Wenger's #ILookLikeAnEngineer campaign that aims to fight gender stereotyping in STEM career fields.
Wenger, a full-stack engineer at OneLogin, took to social media after she received negative comments about her looks in regards to a recruitment campaign she participated in. Some people commented that she wasn't "making the right face," while others said they thought it was unbelievable as to what "female engineers look like." Confused and blown away by all the attention this ad received, Wenger set out to spread awareness and increase diversity in tech fields:
I just want to make it clear that we are all humans, and there are certain patterns of behavior that no one should have to tolerate while in a professional environment. The negative opinions about this ad that strangers feel so compelled to share illustrate solid examples of the sexism that plagues tech.

– Isis Wenger
So here's to Isis and her inspirational movement! Women at AT&T heard this message loud and clear and took to Twitter to add their voices to the mix.
Kirsten and the TDP team of developers!
Kirsten Crear, an Associate Applications Developer working on the AT&T Integrated Cloud, is just one of many who feel strongly about the issue: "Getting women to pursue careers in STEM has always been my passion."
Fellow lady engineers of our Technology Development Program! #ILookLikeAnEngineer #LifeAtATT #ATTEmployee pic.twitter.com/4OKf3G2jsX

— Kirsten Crear (@kikicrear) August 7, 2015
Emely Villeda and the intern ladies of the Tech Development Program:
Can't forget the Intern Ladies of the Tech Dev Program! We love what we do! #LifeAtATT #ILookLikeAnEngineer pic.twitter.com/1kCa8wE1C3

— Emely Villeda (@EmVilleda) August 7, 2015
Macie Bey – Software Developer
#ilooklikeanengineer Female software developer at AT&T! Love what I do and ppl I work with! #LifeAtATT #ATTEmployee pic.twitter.com/GUZifX88hb

— Macie Bey (@MacieBey) August 7, 2015
AT&T Foundry Engineers
What engineers at the Palo Alto #attfoundry look like. #ILookLikeAnEngineer #LifeatATT #dronequeen pic.twitter.com/uhbd6JihH9

— Nadia Morris (@reversegremlin) August 7, 2015
Vintage and Fresh! This is what engineers at the #attfoundry look like. #ILookLikeAnEngineer #LifeatATT pic.twitter.com/fFq7EiOpVX

— Virginia Ng (@vkseid) August 6, 2015
Shruti Rawat – Emerging Technologies at AT&T
Leading efforts in implementation of Emerging Technologies- NFV, SDN, Virtualization #ILookLikeAnEngineer #LifeAtAtt pic.twitter.com/35GExNxKZQ

— Shruti Rawat (@ShrutiNRawat) August 5, 2015
Do you look like an engineer?
Do you feel passionately about helping spread awareness and increase tech diversity?
Do you not fit the "cookie-cutter mold" of what people believe engineers "should look like?"
If you answered yes to any of these questions I invite you to help spread the word and help us redefine "what an engineer should look like". #ILookLikeAnEngineer
Learn more about the women of AT&T.