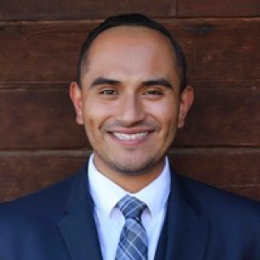 Luis Murillo is no stranger to change. As a veteran who served in the Coast Guard, he often moved coast to coast to fulfill his duties. Change remained a constant – one he learned to embrace. Remaining calm under pressure and finding the thread in fast-paced situations were key to success during his service – as well as now, as a member of the AT&T family.
Luis accepted a full-time position in AT&T's Leadership Development Program (LDP) – a 26-month-long program that nurtures participants' leadership skills. Luis works as a manager, overseeing a team of eight who handle hundreds of customer cases daily. Though he received training in the first several weeks on functions and operations, he continues learning every day in this fast-paced environment. When times get tough, he recalls advice from his Coast Guard days: "It's your attitude, not your aptitude, that will determine your altitude."
Starting a career as a veteran
Like many veterans, Luis initially struggled with where to take his career. Veterans looking to enter the corporate world have much to consider: Do they have to move? Do they know the right things? Will they fit in?
For many, the biggest concerns relate to career skills.
"Getting skills translated and having a solid resume from the military to the civilian side – that was probably the hardest part," Luis said, reflecting on his job search. He wasn't always interested in the idea of AT&T – like many, he believed it to be just another telephone company. It wasn't until participating at an AT&T Case Competition in his first year of business school that he discovered where career opportunities could take him – working with new technology in a culture and structure that, for many veterans, rings familiar.
Plugging in to a veteran network
"I would recommend AT&T to all veterans. Their skills learned in the military are valued here." Luis has a mentor – another veteran – who he can reach out to in order to discuss his growth so far in the LDP, where he excels, has opportunity to improve, and can move his career forward at AT&T. He's also planning to get involved with ATTVeterans, an Employee Resource Group dedicated to connecting veteran employees within the company and serving the veteran community.
How can veterans find a career opportunity right after they finish military service, especially when they don't have prior experience in a corporate environment? Luis believes that networking with other veterans who have already transitioned were key to his success – whether it was messaging on LinkedIn, asking for a phone call, or even meeting up for a cup of coffee. From just doing his research and expressing interest in the company, Luis received personal perspectives and advice on starting his career as a veteran – with some resume tips to boot.
"It's all in how you approach it. How are you going to get information if you don't reach out? Everyone I've met at AT&T has been extremely helpful along my journey and truly wants me to succeed."