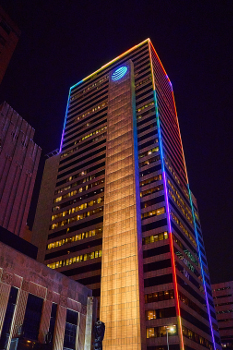 At AT&T, the "&" is more than just 25% of our name. The power of & represents the integrated talents and unbridled possibilities of a workforce in which AT&T is All of Us. It's a symbol of inclusion that defines our company as one that invites and celebrates a healthy mix of perspectives, skills and ambitions. We know that leveraging the ideas and talents of a broad group of people is at the heart of our innovation. And the greater our inclusive culture, the greater our potential to make a difference. That's why we're committed to supporting initiatives, organizations and projects that strengthen the LGBTQ community.
A History of Promoting Diversity and Inclusion and Prohibiting Discrimination
Our more than 140 year history comes with a long-standing dedication to leading the way for inclusion of the LGBTQ community:
In

1975, AT&T became one of the very first major American corporations to adopt a policy prohibiting discrimination against employees based on sexual orientation.

In 1987, LEAGUE at AT&T

was established, making it one of the first LGBTQ and ally Employee Resource Groups in the nation, now with 6,000 members across 32 chapters.

In

1998, AT&T adopted one of the first domestic partner benefits programs for LGBT employees.

In

2006, AT&T was one of the first U.S. corporations to offer transgender-inclusive health care benefits.

In 2015, AT&T signed onto a "friends of the court" brief at the U.S. Supreme Court to support the business case for marriage equality.

AT&T opposes laws that permit discrimination against any of our employees or customers in conflict with our core diversity values.
Diverse Employer
At AT&T, diversity and inclusion will always be top priorities.
Named

one of the "Best Places to Work for LGBTQ Equality" by the Human Rights Campaign (HRC) for the 14th consecutive year, receiving a perfect score on the Corporate Equality Index for its fair treatment of LGBTQ employees.

Named one of the top companies for LGBT employees by DiversityInc in 2018.

Ranked #3 on DiversityInc's Top 50 Companies for Diversity.

Named

Corporation of the Year by NGLCC in 2017, and one of the Best of the Best corporations committed to inclusion by the NGLCC and the National Business Inclusion Consortium in 2016 - 2018.
Community Supporter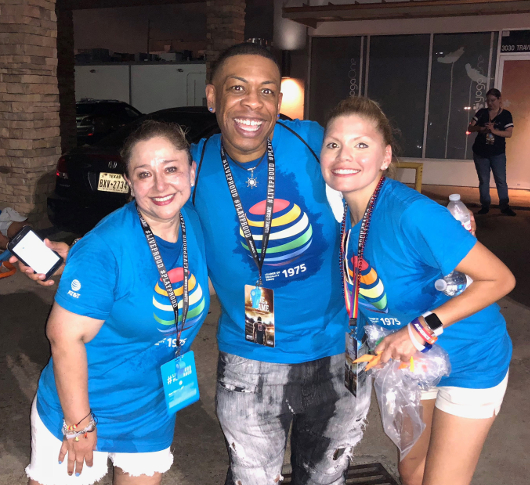 At AT&T, we know that our differences make us stronger. When a wide variety of talents, viewpoints and ideas come together, nothing can stop us from changing the world. That's exactly why we're dedicated to fostering an inclusive workplace and being the employer, service provider and business of choice for the LGBTQ community.

While we all have our differences, there is one unifying factor that brings people together at AT&T ─ AT&T is All of Us.
AT&T

kicked off 2018's Pride season with a call to Turn Up the Love by sharing your support and love for the LGBTQ community members in your life. To support this, AT&T celebrates the campaign in more than 50 retail stores with Pride giveaways, a contest, special offers, and more. We also announced a $1 million donation and multi-year initiative with The Trevor Project (TTP) to help the organization expand and serve more LGBTQ youth in crisis.

The LEAGUE Foundation provides scholarships to LGBTQ college-bound high school seniors.
AT&T s

upports other initiatives that promote safety and inclusion for LGBTQ youth, including HRC's Time to THRIVE conference, GLSEN's work to ensure a safe learning environment for all students, and the Tyler Clementi Foundation's work with parents, educators, faith communities and employers to prevent bullying and build cultures of inclusion and acceptance

.
Through funding and employee volunteering, AT&T supports various HIV/AIDS charities, including Broadway Cares/Equity Fights AIDS, SF AIDS Foundation, and AMFAR.
AT&T was a founding member of the

HRC Global Business Coalition

and the

Open for Business

coalition promoting equality around the globe.
Diversity and inclusion drive innovation at our company. It's important to foster a culture where all viewpoints are considered.

Corey Anthony

Chief Diversity Officer
Through these initiatives, we can continue making progress on promoting inclusion and equality, deepening our commitment to our employees, customers, and communities throughout the global LGBTQ community.
Sound like the forward-thinking company you've been looking for? Join the AT&T family.